BLOCK UPCONVERTERS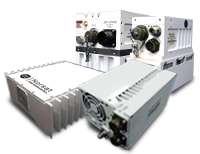 Norsat's Block Upconverter's (BUCs) provide signal transmission for satellite communications around the world. We offer premium performance and reliability in the smallest form factor possible. All of our standard BUCs are backed by 3-year warranty and nearly forty years of experience as the industry's leading provider of high performance BUCs.
Norsat BUCs feature:
High performance for any application

Excellent availability and short lead times
ATOM
The ATOM series of Ku and Ka-band Block Upconverters (BUCs) and Solid State Power Amplifiers (SSPAs) are small, light, and extremely powerful. With industry best size, weight, power and efficiency, ATOM series BUCs are easily integrated into a variety of systems, making them ideal for applications such as: COTM/COTP, Portable VSAT, CDL, Airborne, RADAR and TWTA replacement.
Up to 85% smaller than equivalent BUCs

Lightest available weight, at up to 90% less than competing products

Ultra efficient, consuming up to 60% less power than similar units

Ideal for applications such as Airborne, Comms on the Move, TWTA Replacement
MEDIAN
Designed with both performance and value in mind

Reliable, durable, and strong linearity, making them ideal for VSAT, broadcast, maritime, and portable terminal applications

Comes in a variety of power options

Guaranteed by our 3-year warranty

Norsat can also customize these BUCs to meet your needs.
ELEMENT
Offers small size and weight with a variety of frequency options

Ideal for VSAT applications

Available in standard and extended Ku-Band frequencies

Special order units are available in a wide variety of additional frequencies